PORTLAND — The Maine Public Utilities Commission failed to resolve health and safety issues related to Central Maine Power Co.'s installation of smart meters and should now do so, the Maine Supreme Judicial Court has ruled.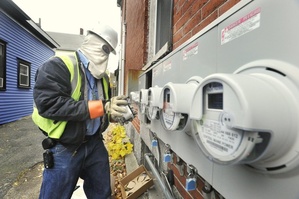 A worker wearing a safety mask installs "smart meters" for Central Maine Power in Portland.
2010 Press Herald file
Select images available for purchase in the
Maine Today Photo Store
In a decision released today, the court sided with smart-meter opponents, who argued that utility regulators ignored their legal mandate to ensure the delivery of safe and reasonable utility services.
At the same time, though, the court didn't agree with the view of opponents that the meters violated constitutional issues related to privacy and trespass.
Following a PUC order in 2010, CMP began switching out its 600,000 analog meters with new-technology digital meters. The $200 million project, which received half its funds from federal stimulus dollars, is now largely complete.
Because the meters already are installed, it's not clear what the practical effect of the court's decision may be.
Ed Friedman, the lead plaintiff in the court suit against the PUC, said at mid-day that he hadn't had time to study the decision. He was pleased that the health and safety issues were upheld, but disappointed to see the constitutional concerns dismissed.
Friedman called on the PUC to conduct full hearings in which experts could be called to testify on the health and safety matters.
"I don't think there's any way they (the PUC) can assure safety," he said.
Many utilities around the world are moving to smart meters, which can give customers more information about their energy use patters and allow power companies to pinpoint problems during outages.
But opponents say the radio-frequency radiation emitted by the wireless meters can cause health problems, and are an invasion of privacy because of the information they collect. (True EMF  Solutions Agrees!)
In an effort to address those concerns, the PUC allows customers to opt out of having the meters, if they pay a $12 per-month fee to cover the cost of alternative equipment and meter readers.
Following the court decision, the PUC released the following statement:
"The Law Court upheld the commission's decision in every regard except with respect to the health effects issue. We will comply with the court's decision on remand."
_______________________________________________
Good News in Florida:
Imagine that, Port Orange may ask a customer to give consent before a smart meter is installed.
My goodness, doesn't this sound like what you would expect from anyone who conducts business in America!
Florida gets to look humane and thoughtful because the rest of the country is behaving so badly.
Especially at the PUC NV!
http://www.news-journalonline.com/news/local/east-volusia/2012/08/30/port-orange-considers-consent-issue-for-smart-meter-installations.html
Port Orange considers consent issue for 'smart meter' installations
By RAY WEISS, Staff writer
August 30, 2012 12:25 AM
PORT ORANGE — Electric company "smart meters" are viewed as either super technology or a super threat.
And after hearing both sides of the argument, city leaders are looking into requiring Florida Power & Light to obtain the consent from individual electric customers in Port Orange before installing one of the controversial meters at their place.
So far, FPL already has hooked up about 25 percent of the city, and expects to be finished by October. But the meters that proponents say will make electrical distribution and system repairs more streamlined and efficient won't be activated in Port Orange until next March.
"There are enough seeds of doubt that people want a choice," City Councilman Don Burnette said, pointing to health, privacy and safety concerns that were raised at City Hall on Tuesday night, and being echoed throughout the nation.
The City Council is planning to vote on a resolution as early as next Tuesday that would require FPL to obtain a customer's approval before installation. The opposite policy now exists, where a customer must call FPL to "opt out" of switching from a traditional meter that must be read by an employee each month.
Steve Anderson, FPL's Smart Meter Deployment and Operations Project Manager, said 3.7 million smart meters are currently in the state, with 3 million activated. He said installation in Florida has been going on since 2009 and is expected to conclude in 2013.
In Port Orange, Anderson said about 7,000 meters already are installed — about 25 percent of customers — and that a contractor hired by the power company will finish the job in October.
Anderson said smart meters automatically monitor electric usage and provide customers immediate billing information online, as well as offer FPL the ability to pinpoint faulty equipment in advance that could lead to a power outage.
"One of the bigger benefits we're all going to see is enhanced reliability," he said. "… Just like the old meters, we're measuring how much and not how you're using (electricity). The meter is idle 99 percent of the time. On average, our meters transmit two minutes a day and send data four times a day."
But 10 opponents of the meter installation Tuesday night said they were worried about possible breaches of privacy, the risks of low-level radiation and someone hacking into the computer files.
Peggy Black, a Port Orange resident, said the decision to switch to a smart meter should be the customer's.
"Ninety-nine percent of people don't know smart meters are in existence," she said of the current installation policy. "We're looking for an opt-in (homeowner permission) because no one knows they're coming."
Florida's Public Service Commission is having a workshop Sept. 20 to discuss smart meters. Volusia County already has passed a resolution requesting the PSC adopt an "opt-in" provision for customers, which Port Orange also is expected to adopt.
"There's a certain level of discomfort that comes from new, unknown technologies until they're proven, until there's a decent track record," Burnette said. "Because of that, a lot of people won't accept it. They haven't seen it in action."
He added: "It's hard to say to people, 'You don't have a choice.' This is America. I'd like to give people a choice."