Welcome,
We have done the research for you and specialize in the best and highest quality EMF Blocking items:
For the office: Computers, Cell Phones, I Pads, I phone extensions etc. On the go, Protective clothing, Scalar wearable protection, Base Ball cap brain protection! Home environment and more: Now personal EMF and Professional Meters so you know the truth. Check out our new "Faraday Bags!"
For Scalar Protection Pendants scroll about 3/4 the way down. (International Shipping is additional postage) email us. More info at the bottom of the page.

A thank you from our customers: "You guys have been great! My cap and brain coat arrived this afternoon! Thank you very much!"
Ever the best,
K. C.
"Thank you for all the emails and information. You really know your products and have really helped me. So rare these days." Thank you sincerely  JM

 (Return Policy at the bottom of page)
*** Electric Field Shields ***
HARApad™ Elite
"Heat and Radiation Attenuating Pad for Laptops"
Laptops emit a high magnetic field from the base, and annoying heat. HARApad Elite is designed to act as a shield between magnetic field radiation source and the part of your body below the shield. This adds a layer of high-tech radiation shielding material that is incorporated into the pad. This contains the field and reduces heat by increasing dissipation to the environment- and away from your body and the laptop. When you place the HARApad Elite under your laptop. The durable, rigid polymer surface acts as a stable platform and fits both 15.4″ and 17″ laptops.
Amazing high level of performance: HARApad Elite reduced magnetic fields more than 100%! (this means that the magnetic fields were less than background levels with the shield in place) It is attractive and two tone: black on one side, gray on the other. Easy to transport with the laptop. A tidy 14.5 x 11 inches. It weighs only 28 ounces. Made in USA.
HARApad shielding performance on a typical laptop, magnetic field readings below the laptop
Distance from bottom of laptop
Laptop without HARApad Elite
Laptop with HARApad Elite
% reduction*
At ½ inch
12 mG
1.0 mG
>100%
At 1 inch
8 mG
2.0 mG
100%
At 3 inch
3 mG
1.9 mG
100%
*with 2 mG background, testing done with frequency weighted 3-axis meterHARApad Elite Black/Gray (Cat. #TLS257) …………… $74.95
COMPUTER MONITOR AND TV SCREEN SHIELD
Transparent Electric Field Shielding.
Great for Laptops, Desktop Screens and TVs!
Want shielding you can see through? Using our 40 dB VeilShield fabric for great RF and 100% E-field shielding, these framed shields can be custom made in any size up to 18″ x 23″. Highly transparent. Can help reduce sensitivity to electric fields. Frame is 1 inch wide, 1/4 inch thick. Includes 6 foot ground cord. Attaches to your display with adhesive hook and loop (included) Note: If you cover a touch screen, you cannot use the "touch" feature. Some Moiré pattern is inevitable, so not recommended for high resolution work.
These are custom made to order. No returns. You must specify width and height (outer dimensions including frame). Write dimensions in the shopping cart in the section labeled "Special instructions or comments here:"

Up to 18 x 23 inches (ships completely assembled):
Computer Monitor and TV Screen Shield (Cat. #TLS732) ……………….. $99.95
ANTI-STATIC MAT
"Easy Connection to Ground"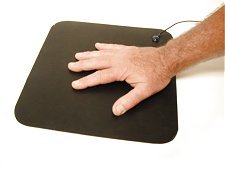 Now you can ground a useful (12″ x 12″) area with this professional quality heavy duty static control mat. Use it with static sensitive computer equipment or as a surface for handling static sensitive semi-conductors. Put it under your keyboard or laptop.
More importantly, you can simply touch the mat with any part of body to dissipate electric field build-up and equalize your potential with ground and reduce static discharge problems. Put it on your seat or on your desktop to reduce ESD. Can be trimmed with scissors to fit any area. Includes 5 foot grounding cord with no resistor terminates with an alligator clip. Surface resistivity is only 105 Ohm/sq. Tough black rubber, about 1/16″ thick, for years of trouble free service.
This pad is for static discharge and grounding of radiofrequency shelding. We do not make any claims for health benefits of body grounding with this product.
Anti-Static Mat (Cat. #TLS212) ………………….…. $39.95

MAKE YOUR OWN MONITOR SHIELD
with RADIO CLEARTM
Transparent Electric Field Shielding Film
Great for Laptops!
Would you like shielding you can see through? At only 27 Ohms/sq, this highly conductive and flexible polyester film is Silver/Indium sputter coated for great E-field and RF shielding. Nearly crystal-clear (greater than 80% light transmission!) and only 5 mil thick, and can be easy to cut to size and tape in place to cover your computer monitor screens. This can help to reduce sensitivity to electric fields. Simply trim with scissors for custom fit. Specify length. Remember you will want to order a ground cord! (Do not cover a touch screen). Note: If you cover a touch screen, you cannot use the "touch" feature.
24″ Radio ClearTM (Cat. #TLS1269) ……………….. $39.95/ linear ft
MAKE YOUR OWN KEYBOARD SHIELD
with VEILSHIELD FABRIC
Reduce Electric Fields from your Keyboard!
VeilShield is a high performance shielding fabric which is very sheer and easy to see through. Simply drape it over your keyboard, mouse, or any other device and you can still see and operate almost like normal. Stock material is 58 inches wide and very easy to trim to any size with ordinary scissors. Very easy to handle, but not suitable for prolonged skin contact if you have a Nickel allergy. Specify length when ordering. Remember, you will want to purchase a ground cord! see below.
VeilShield (Cat. #TLS1270) ……………….. $18.95/ linear ft
GROUNDING CORDS
Gator to Gator
Insulated copper wire with standard alligator clips on the end. Connect it to magnetic shielding foil to add e-field shielding capability or use it to attach computer monitor shields, conductive fabric, or conductive painted surfaces to ground. Also great as an extension for grounding wrist and waist straps. Other lengths available as special order ($1 per foot)
Alligator clip on each end:
Grounding Cord, Gator/Gator, 18 inch (Cat. #TLS295-18) …… $2.00 (insulated clips)

Grounding Cord, Gator/Gator, 60 inch (Cat. #TLS295) ……….. $6.00 (insulated clips)
COMPUTER CAGE
Electric Field Shield for the Back& Sides of the Monitor!
To get complete shielding of the electric fields from your computer monitor, you need to also shield the sides and back. The Computer Cage is a 4′ x 5′ fine mesh fabric that is highly conductive. The fine mesh allows for easy air circulation and light weight while the conductivity provides excellent shielding. Simply drape the material over your monitor and attach the ground cord.
Combined with the Spectrum Shield (for the front of the monitor), the Computer Cage completely surrounds the monitor in a protective shield. Especially important in situations where people are positioned near the back or side of computer monitors. Can be used on TVs and microwave ovens too! Includes 18″ grounding cord.
Computer Cage (Cat. #TLS258) ……………….. $89.95
Blocking EMF from Cell Phones:
BlocSockTM
"Near Field Shielding Phone Pouch"
Think of it as a luxurious pillow case for your phone. Soft and attractive, it protects your phone like an ordinary phone case, PLUS innovative near field shielding material built-in to one side shields your body while carrying the phone and shields your head while making calls. BlocSock™ has two compartments, the main compartment covers the whole phone for transport. During calls, put the phone in the smaller "kangaroo style" pouch.Very effective! Vigorous independent SAR testing showed a stunning 96% reduction of SAR value. Color is black (product color in images shown for clarity only)
Size: (3½ x 6 inches) fits most phones
BlocSock (Cat. #TLS232L) ………. $24.95

BlocSock6+
Jumbo size Shielded Pouch For Largest Phones. Approximately 41/2×71/2 inches.
(Cat. #TLS232-6+) …………………………………… $39.95
SHIELDED CELLPHONE HOLSTER


"Genuine Leather Holster Design With Belt Clip"


A phone on your belt still irradiates the abdomen. This well-made black leather holster has a very effective radiation shield built-in to the back layer.  Durable flap opens at the top and seals securely with magnet. Swivel belt clip can hold the unit vertically or horizontally. Also useful in your pocket or purse. Protects the phone too! Very stylish. Two sizes:
Cellphone Holster Large (Cat. #TLS233-L) …………… $49.95


Fits Blackberry 8300, Motorola Razr, and similar phones up to 4.5×2.6×0.6 inch (115 x 66 x 15mm).
iPHONE EXTENSION CORD
Now you can add Length to Your 3.5mm Headset Cord

Simple and easy to plug in, this extension for your i phone gives you and extra three feet of distance from your headset!  It is three feet long, white, and very light weight. Has standard iPhone 3.5 mm, 3 band plug and socket. Simply plug one end into your iPhone, and plug your headset into the other end. You can daisy chain up to 4 extensions to get a total length of 12 feet if you need it!
iPhone Extension Cord (Cat. #TLS446) …… $4.95  
FARADAY BAGS..
Great for any occasion and for protection while you sleep.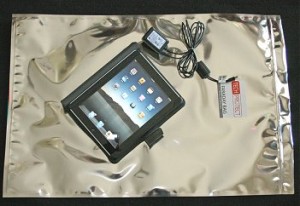 EMP Faraday Bags are designed to protect against damaging EMP current, static discharge, microwave transmission, RFID snooping and moisture damage. Protect your sensitive electronics (laptops, cellphones, iPads etc), precious memories (flash drives, floppy disks, tape recordings, etc) homeopathic remedies and medications, passports, credit cards and other devices from damage and spying. Prevent cellphones and GPS devices from connecting to the network. Could make all the difference if there is an EMP event or solar flare. Opening can be heat sealed with a hot iron for security reasons or long term storage.
Manufacturer recommends that you "nest" items inside multiple layers of protection (double bagging) for best results.
The Small 8X8″ bag is perfect for your cell phones, ipods, MP3, thumbdrives, GPS and smaller cameras.
Large 16×18" bag is perfect for your laptop, gaming systems, radios and extra accessories.
Features an outstanding 38-pound puncture resistance. The multiple layer construction provides full protection against ESD, EMI/RFI and tribocharging. Because its moisture barrier performance exceeds foil laminates for low Moisture Vapor Transmission Rate (MVTR), particularly after flexing, whatever you place in the bag and seal properly is going to stay dry also! Does not provide magnetic shielding.
Electrical Properties
EMI Shielding (MIL-B-81705-Rev-C): >40 db Between 1 & 10 GHz
Resistivity-Conductive Metal Layer (ASTM D-257): <2 Ohms/sq.
Surface Resistivity (both surfaces) (ASTM I-257 @ 12% RH): <10 12 Ohms. sq. in.
Static Decay (FTMS 101C, Method 4046.1 5000 to 0 Volts): <0.05 Seconds
Capacitive Probe Test (High Voltage Discharge) – (EIA-std 541/Appendix E-1 KV): <8 Volts
Charge Generation-nominal (Modified incline plane Avg. nC/sq.in.):Teflon: -0.09 Quartz: +0.10
Physical Properties
Total Thickness: 7.0 mils
Light Transmission (ASTM D-1003-77) <.01%
Tensile Strength (ASTM D882-83 Method A) 735 lbs.
Tear Strength: (D1004-66 – Notched) MD: 5.8 lbs. TD: 7.5 lbs.
Burst Strength (FTMS 101-C Method 2007 1a) >130 psi
Puncture Strength (FTMS 101-C Method A) >38 lbs.
Elongation (ASTM D822-83 Method A)MD: 40% TD: 74%
Meets the military specification MIL-B-81705-Rev-C*
* This specification establishes the requirements for heat-sealable, electrostatic protective, flexible barrier materials used for the military packaging of microcircuits, sensitive semiconductor devices, sensitive resistors, and associated higher assemblies. In addition, the type I materials provide for water vapor-proof protection and attenuation of electromagnetic radiation.
EMP Faraday Bag:
Small 6×8 inch: (Cat. #TLS264S) ……….. $5.95  

Large 8×14 inch: (Cat. #TLS264L) ……….. $15.95
Protective Clothing
SafeGuard APRON
"Durable, Convenient, and Attractive"
This unique apron is constructed using a special cotton based Staticot™ shielding fabric which is a highly effective RF shield, providing 25-40 dB from at least 1 to 10 GHz according to independent test results.
Soft feel and gentle to the skin. Completely machine washable (no bleach) and dryable (cool) without losing shielding performance. Generously cut for comfort and great "neck to hip" protection for pregnant women, computer and microwave oven users, TV or radio station workers, research and hospital workers, or anywhere people are exposed to RF radiation. Color styles may vary. Soft feel and gentle to the skin. Completely machine washable and dryable (cool) without losing shielding performance. Generously cut for comfort and great "neck to hip" protection for pregnant women, computer and microwave oven users, TV or radio station workers, research and hospital workers, or anywhere people are exposed to RF radiation. Color styles may vary.
Safeguard Apron (Cat. #TLS216) …. $59.95
SHIELDED CAP
Smart and Subtle
Protect your brain from RF (radio-frequency) pollution with this handsome baseball style hat. Specially designed to shield the head from frequencies from below AM through microwave, including cellular phone frequencies. Lined with sophisticated Polyester/Cotton blended with micro-fine stainless steel fibers for excellent radiation protection. This gives this unique fabric a truly comfortable, natural feel, durability and washability, but with exceptional reflective characteristics.
Research links RF radiation with behavioral and cellular disturbances. Many people can actually sense the differences in the levels of "mind noise" from RF radiation. Provide your brain a quiet place without interference to your mental processes from RF radiation. Hand washable, Tan color. Adjustment strap means one size fits all. Union made in USA.
Shielded Cap (Cat. #TLS210) ……………………….…. $29.95

Case Price [36 units] (Cat. #TLS210-case) ……. $576.00
 eyeShield
(TM)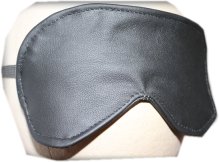 A Well Deserved Vacation For Your Eyes
Give your eyes a rest with the luxurious benefits of pure Silver. eyeShield™ is  a new style of blindfold, made with microwave blocking Stretch Conductive Fabric. Feel the cool comfort of Silver against your hot eyelids as you relax in the darkness of your inner world. Experience what it feels like to block the RF radiation from reaching your eyes. Great for a quick nap, plane trips, or all night long.
Soft and padded, contours nicely to your face with generous notch for maximum nose comfort. Single elastic strap, fits all head sizes. Hand washable.
eyeShield™ (Cat. #TLS222) ……… $28.95
BRAIN COATTM
RF Shielding for Your Brain  – very important with so much Rf and Dirty ele around.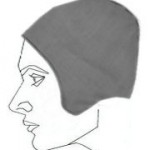 Stretchy Silver-coated nylon skull cap with ear flaps is lightweight and breathes nicely. Comfortable enough to wear year-round while sleeping, thin enough to be worn under a conventional hat or all on its own. Stretchy, so it conforms to your head.
Microwave Shielding Effect: >35dB at 1-10 GHz. Surface resistivity: <0.5 Ohm/sq. Sound quality is not affected. Ear flaps can be tucked under to make a beanie shape if you prefer. Ok, it's not a Royal wedding "Fascinator" but if you prefer comfortable, practical, effective RF shielding over fashion, this is the hat for you.
Brain Coat (Cat. #TLS221) …………… $49.95
BALACLAVA SHIELD
Head and Neck Protection
Very comfortable radiofrequency shielding for the head and thyroid region. Medical grade, silver coated stretchy fabric provides very good microwave shielding. Washable and very soft. Can be worn many ways: covering nose/mouth or not. Covering neck or not. Size of eye opening can be adjusted to your preference. Lightweight, stretchy, anti-bacterial fabric is the key. One size fits all. Made in USA.
Balaclava Shield (Cat. #TLS219) …………… $59.95
SILVERELL® HOODIE
Cozy, Soft, and Discrete
Prefer a shielding garment that no one will notice? This typical looking hoodie sweatshirt does the trick for the upper body and head! Made from very comfortable 90% Rayon and 10% Silver and tested to 90% or better RF attenuation over the frequency range from 800 MHz to 18 GHz.
In addition, the high conductivity of silver causes Silverell to have antistatic behavior, plays an important role in minimizing body odor, and has a strong inhibitory effect on the growth of bacteria (actually acts as an antiseptic!). Loose fitting pull over style, not gathered at cuffs and without a drawstring for the hood. Light weight gray fabric. Wash in cold water, delicate cycle, line dry. No bleach. Suitable for both men and women. Style may vary from photo. Specify size: S, M, L, XL
| | | | |
| --- | --- | --- | --- |
| Sleeve | Chest | Silverell Hoodie | |
| 32″ | 34″ | Small (Cat. #TLS263-S) ………….. $129.95 | |
| 33½" | 38″ | Medium (Cat. #TLS263-M) …… $139.95 | |
| 35″ | 42″ | Large (Cat. #TLSA263-L) ……….. $149.95 | |
| 36″ | 46″ | X-Large (Cat. #TLS263-XL) …. $159.95 | |
 Scalar Pendants: The most powerful Scalar  Energy 3-6-9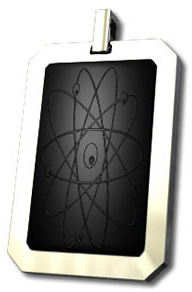 Because the 3-6-9 signature medallion has nine times the scalar energy, and the added frequencies of Far Infrared Ray, NdFeb magnet, Negative Ion, and Germanium we would expect it to be perhaps the most balanced and effective energy device available. (additional shipping for international)
$96.00
Click the Buy Now button below… or click here to find out more about Scalar Energy.

This beautiful Scalar Energy Pendant – (additional shipping for international)

The most powerful 3-6-9- Scalar Energy. Has all the benefits of the signature medallion.  Protect yourself on a cellular level. Enhance your own body's energy force.
Click the Buy Now Button or click here to find out more about Scalar Energy Medallion.
$129.00
EMF METERS – A must for a safe household
and your personal health and wellness.
Know the truth.



PERSONAL EMF ALARM
Attention all pacemaker wearers!
Attention all paranormal researchers!
Attention electrical sensitives!
What could be better than a meter which alerts you with a loud audible alarm when it encounters a field? How about a meter which allows you to set the sensitivity of the alarm? How about a 3 axis meter? How about a meter which does all this for AC magnetic fields, AC electric fields, and RF radiation?! This meter does all that, for under $200!!
We are very excited to offer this simple and useful item for anyone who wants to monitor their EMF environment without having to stare at their meter for hour after hour. Carry it with you to alert you when you become exposed to more radiation that you want. Set it in a strategic location to alert you when a field trips the alarm. You set the level (threshold) above which the alarm will sound. Can also be used as a nice analog meter to read field strength. Same specifications as our Trifield Meter.
Personal EMF Alarm (Cat. #TLS154) …… $189.95  

Trifield "Extended Range, Broadband" Meter
This modified version of the standard Trifield Meter has the following advantages:
• The magnetic field sensor has enhanced sensitivity to frequencies below 50Hz
(for example, sensitivity at 5 Hz is 33 times greater than the regular Trifield meter)
• The RF sensor is frequency-flat over the extended range of 100 kHz – 2.5 GHz.
This fills the gap of 100 kHz – 50 MHz missed by the regular Trifield meter
(However sensitivity is shifted to a range of 0.026 – 260 mW/cm²)
SPECIFICATIONS Minimum
Sensitivity Scale Accuracy Frequency Range
Magnetic 1: 1 mG 0-100 mG ± 20% 5 Hz – 100 kHz
Magnetic 2: 0.2 mG 0-3 mG ± 20% 5 Hz – 100 kHz
Electric: 10 V/m 0-1000 V/m ± 30% 5 Hz – 100 kHz
RF/Microwave: 0.01 kV/m 0-1 kV/m Factor of 2
at 2 GHz 100 kHz – 2.5 GHz
What is unique about this meter? Useful for ELF frequencies below 50 Hz, and RF below 50 MHz, good for very strong RF signals
With these extended ranges, you can detect slow moving static electric and magnetic fields, concealed analog RF transmitters, very weak AC electric fields from wall switches and concealed wiring, and lots of other low frequency EMF sources you might have missed, as well as fine tuning your shielding efforts!
Trifield Extended Range Broadband Meter (Cat. #TLS155)……..$189.95
 EMF HUNTER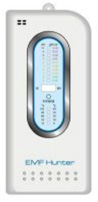 EMF Meter, Microwave & Temperature in One!
Versatile new meter for detecting cell phone radiation, power line EMF, as well as paranormal research. Combines AC magnetic field detection, microwave sensor, and temperature in a very compact design. Easy to read LED indication and dramatic sound.
For cell phones, microwave ovens, and other high frequency appliances:
0.01 to 0.30 mW/cm² in 10 color-coded increments:
– Green light (safe): Less than 0.02 mW/cm²
– Yellow light (caution): 0.02 to 0.1 mW/cm²
– Red light (warning): higher than 0.1 mW/cm²
For power lines, TVs, computers, AC alarm clocks, motors and other electric appliances:
1 to 10 mG in 10 color-coded increments:
– Green light (safe): Less than 2.5 mG
– Yellow light (caution): 2.5 to 8 mG
– Red light (warning): higher than 8 mG
Temperature: External temperature probe on 6 foot cable included.
32 – 102°F (0-40°C) in 5 increments. Audible warning at 99°F
Power: 9V battery (not included) good for continuous use for more than 30 hours. One-year warranty. Very unique!
What is unique about this meter? magnetic field and temperature in very simple format
EMF Hunter (Cat. #TLS473) ……… $79.95
 Simple Radiation Finder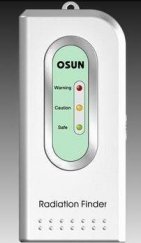 Easiest Way to Locate EMF and Microwave Radiation Simultaneously
If microWatts and milliGauss make your head spin, this is the meter for you. Completely simplified for the non-technical user, this is the most uncomplicated meter we offer. Just turn it on and the meter will tell you about the status of both AC magnetic fields and microwaves in the vicinity with 3 LED lights which indicate "safe-green", "caution-yellow", or "warning-red". Covers 50 Hz – 3 GHz. Requires 9V battery. Made in USA. 1 Year warranty.
Specifications Magnetic Microwave
Green Light Less than 2.5mG Less than 0.02 mW/cm²
Yellow Light 2.5-8 mG 0.02 – 0.1 mW/cm²
Red Light More than 8 mG More than 0.1 mW/cm²
Simple Radiation Finder (Cat. #TLS473) ……………………………. $39.95
E-ALERT


Small Enough for a Keychain, Simple Enough for a Child
We have cleared away all the technical baloney to bring you absolutely the simplest, smallest, and finest combination meter to locate EMF hot spots in your home or work environment. Just press the button and measure magnetic (EMF) and radiofrequency (microwave) radiation simultaneously! Bright colored LED lights come on to inform you if the conditions are "safe", "caution", or "warning". Check anywhere that you like, E-Alert is so small it can fit on your keychain. Covers 30 Hz to 5.5 GHz. Check powerlines, cellphones, appliances, computers and more! So tiny, just a little over 1×3 inches.
Indication Magnetic Microwave
Green Light Always on (battery test) Always on (battery test)
Yellow Light Over 2.5 mG Over 0.02 mW/cm²
Red Light Over 8 mG Over 0.1 mW/cm²
What is unique about this meter? 2 functions in 1, very low cost, small unit
1 year warranty. Uses 2xCR2025 batteries (included).
E-Alert (Cat. #TLS471) ……………………. $29.95
ACOUSTICOM2 RF Meter


Simplicity Without Compromise
A comfortable size and reliable meter with an economy price. This meter is great for checking radio waves from smart meters, wi-fi, cellphones and towers, and just about every RF source. In your home or office this meter covers an amazing 200 – 8000 MHz with ±6dB accuracy. 8 LED light bar indicates field strength in V/m so it is very easy to interpret and has a very fast reaction time. Best of all, it has a dual sound feature which you can turn off if you want: Demodulated sounds allow you to hear intensity, and with a small amount of practice, what type of device is creating the microwave signal. Plus, an "alarm" sounder which emits a pulsing warning at higher exposure levels.
The internal antenna is at the upper back of the case. Signals are best measured when the source is behind the instrument. Uses one 9V battery, included. Pocket sized and light-weight.
Range (Peak Display): 0.01 – 6.00 volts per meter (V/m)
0.01 0.02 0.05 0.1 0.3 1.0 3.0 6.0 V/m increments; (0.5 to 100,000 µW/m²)
Power draw: 40 to 90 mA (depends on the sound volume)
Battery life: Up to 10 hours continuous with normal alkaline battery
Size (mm): 110 x 63 x 21 (LxWxD); Weight: 140g incl. battery
Acousticom2 (Cat. #TLS140) ………………………. Was $249.95, On sale now, only: $199.95
HIGH FREQUENCY METER
Calibrated, Directional, Accurate, Sensitive
This is the Recommend Meter for Checking "Smart Meter" Emissions
We like this calibrated wideband (800 MHz – 2.5 GHz) RF meter because it has a switch which allows a choice of peak or average indication mode. This permits accurate measurement of both digital and analog signals. Two ranges: 1 – 1999 µW/m² (same as 0.1 – 199.9 nW/cm²) and 0.1 – 199.9 µW/m² (same as 0.01 – 19.99 nW/cm²).
In addition, you get a choice of audio tone – none, or intensity proportional to field strength, or proportional to frequency (for analyzing pulsed signals)
– accuracy ±6 dB
– true logarithmic – periodic antenna, 800 MHz – 2.5 GHz, single polarized, included
– standard 9V battery included
Easily detects cell phone towers, cordless phones even microwave oven leaks. Instructions in German and English. The 3 minute YouTube video at right demonstrates how the sounds from this meter help distinguish different sources of RF (video sound starts after 19 seconds). 2 year Warranty. Model HF35C.
High Frequency Meter (Cat. #TLSA481) …. $429.95
PACE-ALERT™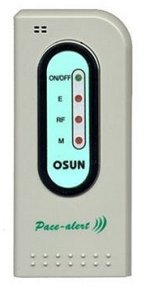 Peace of Mind for Pacemaker Wearers
Pacemakers and implantable defibrillators are vulnerable to strong electromagnetic fields. Manufacturers of these devices have set EMF exposure limits, but how is the user to know if his work or home environment is safe?
PaceAlert is the first and only meter/alarm designed specifically with pacemaker safety in mind. Simply turn the unit on and it will warn with LED lights and audible alarm if it encounters EMF near the limits for proper and safe operation of implanted devices. PaceAlert monitors AC magnetic fields, AC electric fields, and radiofrequencies simultaneously. Common sources of strong fields include microwave ovens, power tools, hair dryers, vacuum cleaners, electric ranges and toaster ovens, electric circuit boxes, welding equipment, etc.
Alarm thresholds:
4 kV/m for electric field at 50/60 Hz
1.5 Gauss magnetic field at 50/60 Hz
100 V/m RF from 500 kHz – 6 GHz

No adjustments needed, no complicated interpretations to make. If you hear the alarm, you are too close! LEDs will indicate type of EMF (electric, magnetic, or RF). Convenient size fits in pocket or purse. Or it can be worn as a necklace or on belt clip. Gets about 20 hours on standard 9V alkaline battery, 9 hours with rechargeable. Low battery indicator. One year warranty. Annual re-calibration available.
PaceAlert (Cat. #TLS475) …………… $199.95
 In The News
A research team at the Academic Medical Center at the University of Amsterdam examined the effects of GPRS and UMTS signals on critical care equipment such as ventilators and pacemakers. There were almost fifty incidents of EMI impacting the devices, and 75 percent of these could be characterized as significant or hazardous.  Problems observed – a total switch off and restart of mechanical ventilators, complete cessation with no alarm sounded of syringe pumps, and incorrect pulsing of an internal pacemaker.  Second-generation phones based on GPRS technology generated the most serious instances of EMI – sometimes from as far away as three meters.
Return Policy: Returns  accepted within 30 days in new condition. There is a 20% re stocking fee.  Scalar Pendants: There is a flat $29.00 re-stocking/ pay pal fee for returns, Thank you. Additional shipping is charged for International. (most countries around $11.00 US) email us for exact amount.

(Disclaimer:  These products are not intended to diagnose, treat, cure or prevent any disease or disorders. These products are not intended to be a substitute or replacement for any medical treatment. Please seek the advice of a healthcare professional for your specific health concerns.)